Revised ACBOE 2020-2021 Calendar
The Autauga County Board of Education voted to revise the school year calendar for our county for the upcoming school year on June 25, 2020. Below is the Revised Calendar.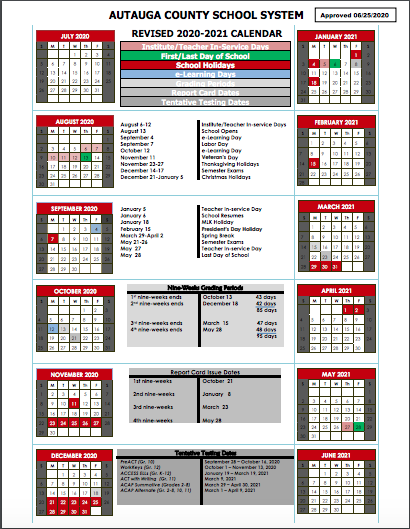 2020-2021 Revised ACBOE School Year Calendar
Mrs. Hicks would like to get your feedback on electives you would be interested in taking. Please click on the link below.
Attention MHS Class of 2021!
Class of 2021!
The following is from Prestige Portraits/Lifetouch regarding Senior Portraits:
"We have MHS scheduled to be in the studio on July 20-22. A brochure will go out to their homes on 7/2. We will also call to remind them of the appointment about a week prior to their pre-scheduled appointment."
Call Lifetouch/Prestige at 334-361-2360 if you have any questions or need to reschedule your appointment.
Please do not call the school regarding appointments or portrait questions.
You can also visit this link to go directly to the Prestige site to learn about pricing options, appointment information, and how to prepare for your portraits.
MHS Athletics COVID-19 Plan
Directions to Marbury High School
MHS Class of 2020 Graduation Information
Per the Autauga County Board of Education, it has been announced that a traditional graduation ceremony is tentatively planned for the Marbury High School Class of 2020 on our campus for Friday, July 24, 2020 at 7 PM on our football field. More information will be given out at a later date.
MARBURY HIGH SCHOOL CLASS OF 2020 GRADUATION CEREMONY
Marbury High School Class of 2020 Ceremony
MHS Class of 2020 Slide Show
Marbury High School Class of 2020 Slide Show
Child Nutrition Meal Pick-Up Program
Per Superintendent Spence Agee's call-out message on Monday, April 27, 2020 and Monday, May 4, 2020:
Meal pick-up for students will re-start on April 29th. However, pick-ups will now only occur on Wednesdays at the same designated schools. Each student will receive 7 meals. Some meals will be comprised of fresh items and others may be refrigerated and reheated as needed. All CNP workers and meal distributors will be following strict guidelines in meal preparation and distribution including wearing the required PPE equipment at all times.
Meal Pick-Up Sites are open from 9:30 AM-10:30 AM
Please have the trunk open, back seat open, or the back of SUV open for workers to put meals into the vehicle for proper social distancing measures.
At least one student must be present in the vehicle to receive meals per the Federal Child Nutrition Program guidelines.
Autaugaville School
Billingsley School
Pine Level Elementary School
Prattville Intermediate School