Announcement Posts
---

Revised ACBOE 2020-2021 Calendar
The Autauga County Board of Education voted to revise the school year calendar for our county for the upcoming school year on July 22, 2020. Below is the Revised Calendar.
Teachers will return on August 24 for Professional Development.
Students will return on September 8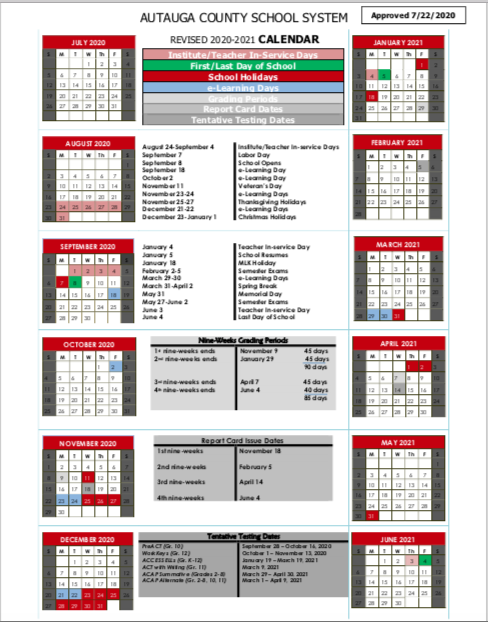 Marbury High School 2020-2021 Reopening Plan
Marbury High School Students and Parents:
I hope you had a great summer! My staff and I are extremely excited to have you back in school! I know there are many questions and concerns with the reopening of school due to Covid-19. I can assure you that my staff and I have met extensively to develop a plan that we feel provides you with an environment that is safe and promotes learning. The following plan takes into account all relevant data, state and county guidelines, input from local and state health officials, and feedback from staff, students, and parents. There will be several changes with how we operate this year. However, I can assure you that your safety is our number one priority. The information below will assist you in understanding how our traditional school will operate for the 2020-2021 school year. If you have any questions or concerns, please don't hesitate to email me at lyman.woodfin@acboe.net. We are going to do everything we can to give you the best experience possible! We look forward to having you back at MHS!
Please click on the link below for the full details regarding the reopening of Marbury High School for the 2020-2021 school year.
Marbury High School 2020-2021 Reopening Plan
Attention MHS Class of 2021!
Class of 2021!
If you were unable to make your Senior Portrait Appointment for any reason,
Call Lifetouch/Prestige at 334-361-2360 to schedule an appointment.
Please do not call the school regarding appointments or portrait questions.
You can also visit this link to go directly to the Prestige site to learn about pricing options, appointment information, and how to prepare for your portraits.
MHS Athletics COVID-19 Plan
A Message from Mr. Woodfin to the Class of 2020
Parents and students of the Class of 2020,
This is Lyman Woodfin, Principal at Marbury High School. It is with a heavy heart that, due to the ongoing threat to the health and safety of the community, our school staff, and our students, I have no other choice than to cancel our plans for the upcoming graduation ceremony that was scheduled for July 24th.
Please understand that, as your principal, I sincerely wanted to be able to give you guys the ceremony that you deserved. As I stated last month when I spoke to most of you (and/or your parents), I would do everything within my power to ensure that the ceremony would take place.
Unfortunately, due to the rise in local Covid-19 cases within our community, the recommendations of the Alabama Department of Health, and the potential danger posed to all attendees, I have had to make the difficult decision to cancel this event.
Words cannot describe how sorry I am that this has had to occur. The Class of 2020 will always hold a special place in my heart. The amount of adversity that the Class of 2020 had to overcome this year is nothing short of miraculous. I have no doubt that all members of the Class of 2020 will be successful in life.
Please accept my apology in this matter and if you feel the need to discuss this decision individually, feel free to call me at the school.
Thank you, and as always, Go Bulldogs!
Directions to Marbury High School
MARBURY HIGH SCHOOL CLASS OF 2020 GRADUATION CEREMONY
Marbury High School Class of 2020 Ceremony
MHS Class of 2020 Slide Show
Marbury High School Class of 2020 Slide Show
Child Nutrition Meal Pick-Up Program
Per Superintendent Spence Agee's call-out message on Monday, April 27, 2020 and Monday, May 4, 2020:
Meal pick-up for students will re-start on April 29th. However, pick-ups will now only occur on Wednesdays at the same designated schools. Each student will receive 7 meals. Some meals will be comprised of fresh items and others may be refrigerated and reheated as needed. All CNP workers and meal distributors will be following strict guidelines in meal preparation and distribution including wearing the required PPE equipment at all times.
Meal Pick-Up Sites are open from 9:30 AM-10:30 AM
Please have the trunk open, back seat open, or the back of SUV open for workers to put meals into the vehicle for proper social distancing measures.
At least one student must be present in the vehicle to receive meals per the Federal Child Nutrition Program guidelines.
Autaugaville School
Billingsley School
Pine Level Elementary School
Prattville Intermediate School